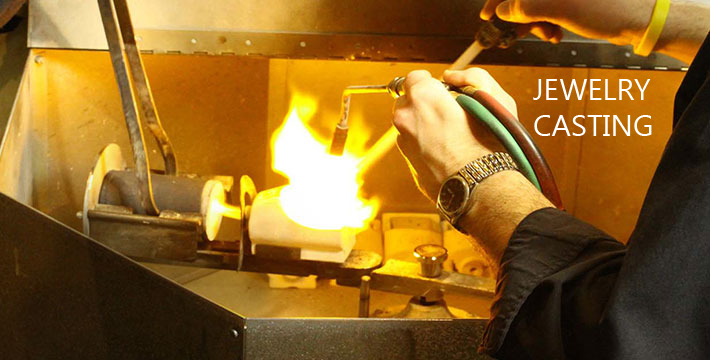 Using the same lost wax jewelry casting principles as the past, resin models are encapsulated in plaster and then incinerated through a burnout process. Today we no longer melt gold and platinum with hand-held torches. Using induction and high frequency melting, our technicians can After casting the models, they are cut loose and worked over with battery of abrasive compounds. Once a job that was done with handheld files and emery paper, they are now de-burred with finishing tools driven by hand-held flexible shafts and upright polishing machines. After the preparation is complete, jewelers fabricate or assemble any additional settings, parts or pieces needed. Although the jeweler's torch is still the dominant tool for soldering and welding, lasers play a big role in modern jewelry making. Using lasers, our jewelers can do precision welding on areas of jewelry where heat needs to be controlled. The concentrated focus of lasers enable our designers to weld precious metal in close proximity to sensitive, valuable stones, without destroying or melting the surrounding work.
When all metal work is complete, the precious stones to be highlighted are added to the piece. Specialized jewelers skilled at the art of stone setting, use precision, hand-held tools to secure gemstones and diamonds in gold and platinum. The stone setters cut slots into precious metal, allowing them to sit level before they are tightened. The skilled hands of the setters apply just the right amount of pressure to finesse prongs, beads, and walls over delicate stones to ensure that they remain snug in their settings.
With metal work completed, the last step in jewelry making is polishing and finishing. Jewelry polishing is a multistage process whereby metal is buffed with soft rotary tools made from bristles, felt, or muslin. Applied in descending stages, from coarse to fine, wheels are charged with various polishing compounds to achieve the desired luster.
If you would like to see the jewelry making process in person, you can visit our studio in Danbury, Connecticut. There you can watch our artists creating works of art in person, while viewing their finished works in our adjoining gallery.